Technical documents list
Supplementary documents list
What is "Ball Valve"?
The valve disc, which controls fluid flow, of a ball valve is shaped like a ball.
Valves are used to stop/allow the flow of water, air, gas, powder, and other substances inside piping, and also to control the flow rate, making them useful for a wide variety of applications in our world.
Valve operation concepts can be generally divided into the following four types according to the shape of the valve element that controls the fluid flow: Pushing, rotating, sliding, and squeezing types.
Ball valves correspond to the concept of "rotating", and are therefore used in flowing (on) and closing (off) applications for fluid flow. Additionally, the "full-bore" structure, in which the valve port and piping bore are the same, provides a valve with extremely low fluid resistance and little pressure loss. The ability to turn on/off by 90° rotation of the valve element provides excellent operability and short operating time.
LIST 1.
Concept
Basic Design
Strong Point
Weak Point
1
Rotating

Resistance of flow: quite small
Operation time: Short(by quarter turn operation)

Flow control: un-suitable

Face to Face Dimension: Small
Flow control: Suitable
Operation time: Short(by quarter turn operation)

Resistance of flow: Big(Stem)
Limited operation range by material of seal

2
Pushing

Shut off performance: High
Flow control: Suitable

Face to Face Dimension: Large
Resistance of flow: High
Operation Torque: Big

3
Sliding

Shut off performance: High
Resistance of Fluid: Small

Operation time: Long
Flow control: un-suitable

4
Squeezing

Cleaning Performance: High(Glandless design)
Suitable for Flow control
Flow control: Suitable

Limited operation range by material of diaphram
Construction of Ball Valve
Ball valves generally have a structure in which the valve disc, the "ball", is held between two seat rings referred to as "ball seats". As mentioned above, the "stem" connected with the ball is rotated 90° to turn the valve on or off.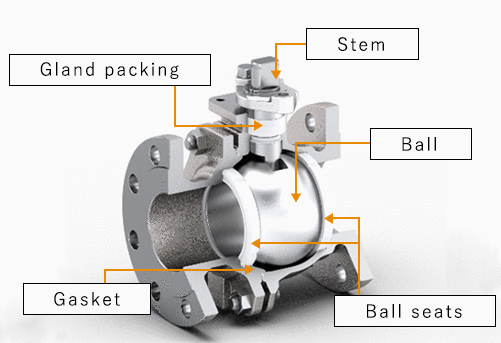 Ball valves consist of either a floating or a trunnion structure.
The floating structure consists of the ball being held by two ball seats so that the fluid pressure presses the ball against the ball seats. This is a general-purpose valve is commonly used due to the small number of parts and inexpensive cost.
The trunnion structure maintains the ball at a right angle to the fluid so that the springs equipped to the backside of the ball seats press them against the ball to form a seal with no reliance on fluid pressure. This structure prevents low-pressure leakage and applies a smaller load on the ball seats, even in piping to which high pressure is applied, in comparison with the floating structure, making it suitable for large-size valves.
Ball Valve by temperature
HISAKA WORKS offers a product lineup featuring ball valves for a wide range of valve applications according to fluid temperature, properties, and pressure.
The following table indicates the use ranges by temperature of 2-way valves. Please note that the model may change depending on the fluid.
Supply Record
Food

Chemical

Steel

Environment

Battery