Technical documents list
Supplementary documents list
HISAKA manufactures valves specialized for pig systems also.
Please provide the following items when ordering valves for use in a pig system:
(1) Pig specifications (material, dimension)
(2) Required inner diameter of valves
What is "PIG system"?
1.PIG

"PIG"has been named by the figure that a pig eats bait.
PIG run around inside pipes briskly, and push out remaining fluid inside pipe.
There are many kinds of shapes of PIG, ball type, cannonball type and so on. It is necessary to select depends on piping and fluid, material also.
Material is selected Silicon rubber or Fluoric resin, generally.
2.PIG line

This system is effective for that 2 kinds different fluids flow 1 pipe line.
It can be simply for complicated pipes, can be decreased quantity of pipe.
3.PIG system

This system can be collected 99% of remaining fluid, therefore it can be improved yield also as well as cleaning effect.
It can be effected collection of remaining fluid, shortening time for cleaning, saving cleaning water/detergent and buden reduction of waste water treatment system.
It can be used valve have same port diameter with inside diameter of pipe only for this system.
4.PIG launcher
(Starting tube)

Starting Tube push a PIG by air or hydro pressure, and PIG spurted into piping.
5.PIG receiver
(Catcher tube)

Catcher tube receive PIG while through the fluid.
Effective of PIG system (improvement of yeild, caring for environment)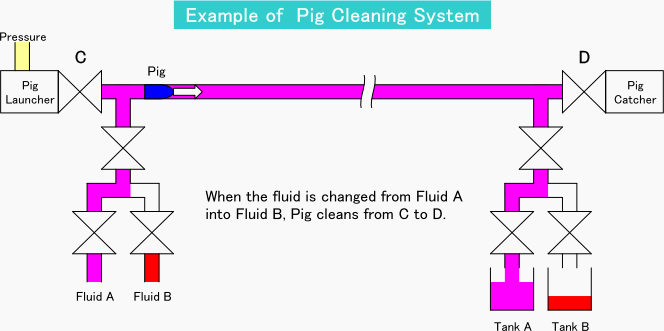 6.Valve for PIG system

2-way HF5(for PIG), CH1, Y-type 3-way HY1/HY2(for PIG)
We can arrange according to your request and specification data(outside diameter of PIG, and requested inside diameter of valve).
HY1/HY2 is usable for diverting operation of PIG.
7.PIG launcher,
PIG receiver

It is suitable by special shaped ball of HF5(for PIG system).