Technical documents list
Supplementary documents list
What is "Cavity Expansion"?
1.Thermal expansion inside cavity and trouble condition
Simultaneous occurrence of conditions such as the followings in floating-type soft seat ball valves may cause the temperature of the fluid in body cavity (pocket) to increase, resulting in thermal expansion and an abnormal temperature increase in the airtight cavity isolated from the fluid passage:
1) Body cavity (pocket) inside the valve unit are completely filled with fluid (incompressible fluid)
2) Heated due to an increase in the external or fluid temperature
3) Completely open or closed
The above condition is referred to as an "internal pressure increase".
Thermal Expansion inside Cavity is happened other problems as followings.
1) Operation torque is increased suddenly, and happened operation problem for on-off valve and manual valve.
2) There is possibility to get damage for seal parts.
3) There is a possibility to get damage for valve body. (especially for cast iron body.)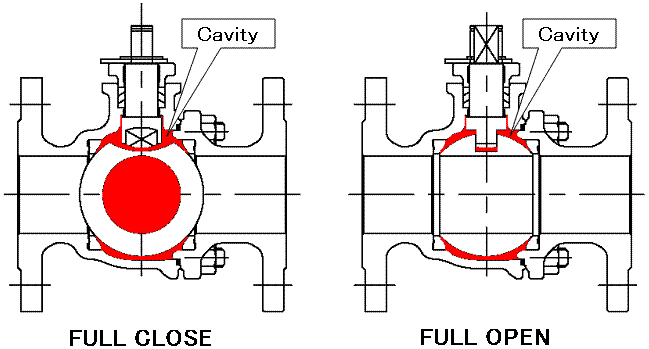 2.Preventive Measures for Thermal Expansion inside cavity of body
1) Making a hole (bypass) body cavity to valve port. (For the time of increasing temperature and valve position ""Full Open"", body cavity and port is same pressure condition.) Standard Spec. for HF5 model.
2) In case of increased temperature, valve position "full open" and fluid pressurizing direction 1-way,

1.make a relief groove on ball seat at upstream side.

2.make a hole on ball face at upstream side pass to port.

3) In case of increasing tempertaure, valve position ""full close"" and fluid pressurizing direction non-fixed, valve should be used Trunnion type ball valve.