Features
This model is used LP seat that is protected penetration fluid to material seat in case of monomer fluid.

●PTFE has void(micro spot hall), but void of LP seat is quite little.
Therefore it has high performance of protect penetration for
monomer fluid.
●Performance of this seat are high sealing, light & stable operation
torque and chemical resistance.
●This seat is able to attach to standard valve (HF5).

Specification
Connection Rating : JIS 10K, ASME 150#
Size : 15A(1/2")~300A(12")
Material : SCS13A, SCS14A, SCS16A, A216‐WCB, FCD450, FC200 others


Characteristic of material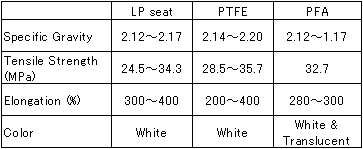 Result of gas permeation & chemical dip coating


Usage
Chloride Vinyl, Styrene, Butadiene, Propylene and other monomer fluid.
Option
Anti-static, Gland O-ring seal, Key-Rock, Long Bonnet, Special Painting, Oil&Water Free, Flushing Nozzle, Buffing, Electro Polishing, Beveling port, PIG spec., Ferulle ends, T&G flange and etc